positive & trustworthy chartered surveyors
Able Surveyors deliver a comprehensive surveying service across London and the home counties, helping their client base make informed decisions about purchasing and managing their land and property assets.
With over twenty-five years of experience in building surveys and property management for the residential, industrial, commercial, retail and education sectors. Able Surveyors are a member of the Chartered Institute of Building. The team have vast experience within the residential property market.
Able Surveyors offer a range of professional services, including condition reports, HomeBuyer reports, building surveys and much more.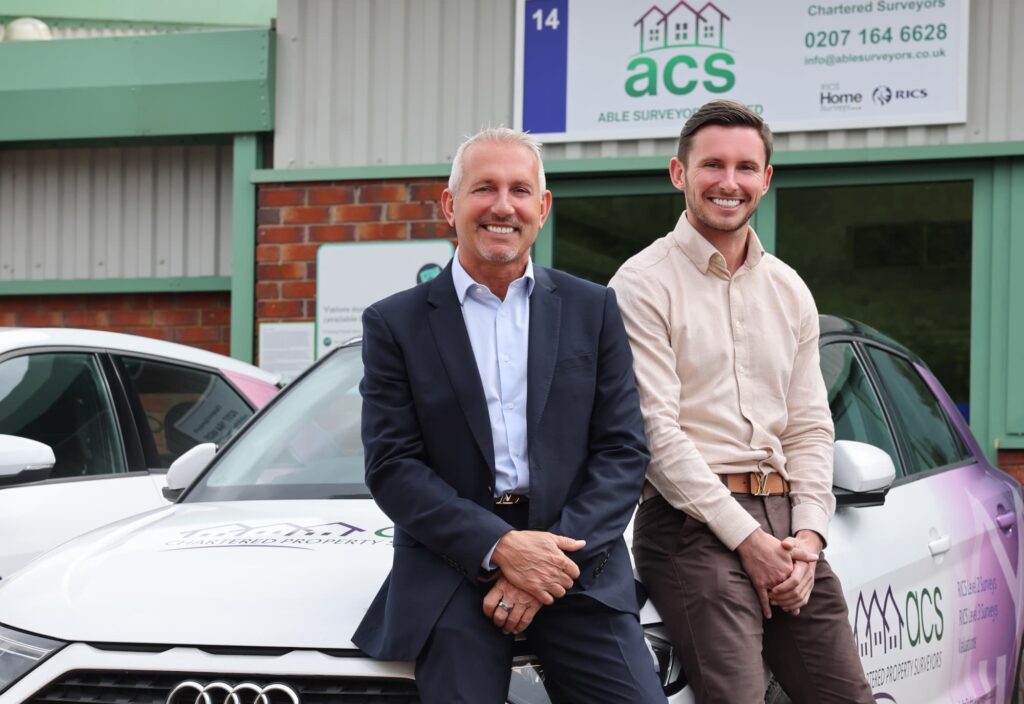 Able Surveyors have built up an excellent reputation for commercial property management services and specialist building surveys for homes and businesses in London and the Home Counties. From our offices in Essex and Central London, we deliver valuable, commercially focused advice and guidance to assist property owners, operators and managers of retail premises, industrial units, educational establishments and other business premises, as well as residential property, to make informed decisions about their asset acquisition, disposal or management.
We have 25+ years of surveying experience and a seasoned team of RICS Chartered Surveyors to put at your disposal. Our highly competent, motivated surveyors have a wealth of expertise dealing with different types of residential and commercial property in and around London, providing commercial property management services and building surveys for homes and businesses. If you are looking for valuable professional insights to help you get the most from your property investment or building management, you couldn't be in better hands.
Able Surveyors are proud to be members of the Royal Institution of Chartered Surveyors (RICS), our esteemed professional body. We comply with the strict RICS code of conduct, rules and regulations and are regularly monitored for quality. That way, we can provide peace of mind to all clients that they will continue to receive the highest standards of service excellence. As experienced construction management professionals in the London area, we are also members of the Chartered Institute of Building (CIOB).
We offer a wealth of professional surveying and building-related services for residential and commercial property clients in Central London, Greater London and Essex. Our extensive service portfolio comprises the full suite of RICS property surveys and valuations as well as in-depth surveys for specific defects or concerns, including detailed damp and subsidence investigations, and snagging reports for new-build property. For commercial landlords and tenants, we can help with Schedules of Condition and Dilapidation Surveys as well as Lease Extension Surveys and more.
CONTACT US
GET IN TOUCH TODAY TO BOOK A SURVEY OR SEEK EXPERT PROPERTY ADVICE
I can't say enough good things about Able - not just on the survey quality, but also on the excellent communication. They knew I was in a hurry, and they made sure they gave me the earliest possible slot (about a week after paying). On the day, the surveyor kindly called me and spent half an hour talking through what he found, to put my mind at ease. The next day, I got a summary of the survey. And a couple of days later, the full survey report. It was incredibly detailed, and answered all my questions. It also listed the costs of each repair. A few weeks later, and after the searches came back, I emailed Able with a list of questions. A couple of hours later, the surveyor personally called me and spent an hour going through each point step by step. At no point did I feel rushed, and he spent time reassuring me about each item I was worried about. All in all, dealing with Able was the best experience I have had in the home-buying process, and I would be delighted to use them again if I ever buy another place.
arpana agarwal
11/03/2022
Jack did a great job for us and was available for any follow-up questions in a timely manner. We got a thorough and professional report at a much more reasonable cost than other firms. Thank you!
Achilleas Konstantelakis
15/12/2021
Excellent service and communication. High quality report with lots of detail. I highly recommend them.
One of the best people you want to use when considering buying a property. Communication was second to none and the report provided was detailed and gave me the assurance I was looking for. Very reasonable price for a first time buyer.
Alireza Mohammadi
05/11/2021
I am happy with service they provided. I was in dark regarding a house that I am going to buy but they stepped in and shed some lights and gave me some insights about the condition of the property. They are resposive nd helpful. I am happy with their service and also I have to mention that their price was reasonable.
My second time using their services, this time with surveyor Jack. As always: professional report, prompt response with follow up call. Honest (refunded unnecessary part of the survey). Got returning customer discount. Absolutely nothing to complain. They are ABLE, as the name says.
Stefan Laxness
30/09/2021
Very efficient, very competent, excellent customer service!
I felt good because of the impeccable services i received. For keeping me in loop all the way is very professional even when you couldn't reach the agent. The report was very detailed and the attention to details was very impressive. The Initial report i first received was very commendable. Great job and keep it up.