---
Surveys
At Able Surveyors, we conduct three main surveys, following the guidelines from the Royal Institute of Chartered Surveyors (RICS). These include Condition Surveys, HomeBuyer Reports and Building Surveys.
Each survey offers a different level of assessment, to describe a building's condition and whether there are any structural or legal concerns a prospective buyer should be aware of before taking ownership. If your home is suffering from a particular problem or feature, different surveys are available to address these issues specifically.
Differences between the main surveys are detailed below, and we are happy to help you choose the best report for your property if you need assistance.
The RICS HomeBuyer Report (Level 2) is designed to accommodate most conventional homes in the UK. Like the Condition Survey, it uses a colour-coded system to highlight concerns, but will go into some detail about areas needing specific maintenance or attention. They are best for homes less than fifty years old, with no major modifications.
Along with the survey you can choose to have a valuation or reinstatement cost included, if you need one for your lender or home insurer.
The RICS Building Survey (Level 3) is the most comprehensive report, and will provide a thorough review of the property's condition and construction. It's particularly valuable for large, unusual or listed properties, or if you are planning extensive renovation or restoration.
The report is likely to be extensive, usually including technical information about the construction, and detailing hidden defects that may have been overlooked in a less thorough survey. Photographs are often used to support findings.
Stock Condition Surveys are normally used for assessing property portfolios for an organisation. Click here for more information on our Stock Condition Surveys.
If you have concerns about a specific part of your home or want to investigate an issue highlighted by another report in more detail, then you should get a Specific Defect Survey carried out to find out more about the problem.
---
Valuations
Valuations will not comment on the condition of a survey, but are produced specifically to check what the property is worth on the market. There are two kinds of valuation:
Mortgage Valuation
These are brief reports designed to assure lenders of a property's value, prior to releasing funds. It only tells them whether they are providing the appropriate loan amount, and will not flag up any defects or reasons for a change in previous value.
Private Valuation
There are a number of reasons why a private valuation may be required. Often homeowners want a second opinion on a home they are about to sell, or may be preparing to release equity. Cash buyers may also request a valuation to ensure they are paying a fair price.
Other reasons for a private valuation of property include calculating capital gains tax, probate or inheritance tax, or managing assets in the case of marriage or divorce.
---
Additional Services
Schedules of Condition are used to record the state of a property at a given time. They are ideal for creating a frame of reference, particularly in relation to remedial works or damages that need to be put right.
Landlords commonly commission a Schedule of Condition prior to a new tenant taking possession of a property, to later establish which party is liable for repairs, Similarly, a schedule might be taken before building work on an adjacent property commences, in case party walls are affected.
Snagging Reports
New-build property is often sold as freshly finished packages of perfection. In reality, it's rare to find a brand new building without its share of problems, or "snags". Whether minor cosmetic details aren't quite as you expected, or areas of your home have been damaged or left incomplete, it's important to raise this with your builder as soon as possible so that they can be addressed.
Hiring a professional to conduct your snagging list ensures that every detail is captured, and saves you the stress of being emotionally invested in the process. Our team will make sure that each fixture and fitting is exactly as you were promised, bring up any inconsistencies with your builder and monitor their remedial process to ensure it's completed in a timely manner. Once they have addressed all of the points on your snagging list, we will inspect it again before signing it off.
If you are looking for a damp report, contact our expert team today. Our independent damp reports are dedicated to ascertaining the cause of damp without any commercial bias.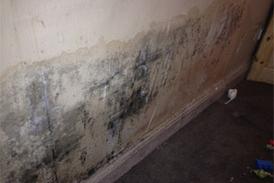 Able Surveyors offer building movement monitoring services. This service can help to put your mind at rest while building works are being carried out and our easy to understand reports allow movements of foundations to be monitored over time.