Chartered Building Surveyors For Brentwood
Able Surveyors is a team of Chartered Surveyors serving Brentwood and the whole of Essex & London. Brentwood is serviced from our Chelmsford, office, we are only a short journey from Brentwood where we have surveyed a huge range of homes, flats and properties in the area. Our team holds years of experience providing all forms of RICS surveys including HomeBuyer Reports and Building Surveys, as well as everything from damp reports, to schedule of condition and stock condition surveys.
Are you interested in having a property report carried out? Please get in contact with our team today and we will be able to help you with any questions you might have.
Read our latest customer testimonials.
Property in Brentwood
Brentwood was named as the fast-growing commuter town by house price growth according to research by PricewaterhouseCoopers. The report saw an increase of 8.5 per cent in house prices over the 12 months leading up to April 2017. Additionally, according to Zoopla estimates, the average price of houses here is £527,231, and it has been suggested that this price is still likely to price.
Brentwood is popular thanks to its easy commuting routes into London, as well as excellent transport connections to the local area. It sits just outside the M25 and has become a popular destination both for families and commuters.
Our range of Services
At Able Surveyors, we offer a complete range of property surveying services. Our highly popular RICS surveys investigate the general condition of a property, providing you with information on any area of concern. Alternatively, if you are concerned about one thing in particular you can choose one of our specific defect surveys.
Whether you are buying your first family home or are investing in a buy-to-let flat, having a full understanding of the condition of the property is extremely important. Many purchasers do not arrange to have any kind of survey carried out and end up facing hefty bills to fix defects and other problems after they have bought the property.
Why do I need a survey?

When buying a property, the seller is not obliged to provide you with extensive details of the condition of the property – it is up to you to establish that you are happy to buy in its current condition. So if you choose to purchase without having any kind of property survey carried out, you are effectively buying blind. In the worst scenarios you can find yourself buying a property that needs serious renovation and restorative work that can end up costing thousands of pounds.

A RICS property survey will provide you with insight into the current condition of the property from a completely impartial perspective. This can give you a stronger negotiating position if you choose to buy.

Which survey should I get?

We offer three specific forms of RICS surveys that you might be interested in. The RICS Condition Report provides you with an overview of the property, the RICS HomeBuyer Report is a more in-depth option offering advice and information on problems and potential issues, while the RICS Building Survey is the most comprehensive property survey available.

We have created a helpful survey comparison table to give you a full understanding of the differences between our surveys to establish which might be suitable for you.
RICS Building Survey Case Study
We recently carried out a full Building Survey on a property in Brentwood, which uncovered several concerns on a converted three-bedroom mid-terrace house. There were issues with the exterior including cement mortar that had worn away from the brickwork of the chimney. Additionally, some of the brickwork on the main external walls had become spalled – water had entered the brick and then frozen, which over time had caused the bricks to fracture.
On the interior, there were further issues with the walls including the need for re-plastering. We also uncovered that the consumer electric board contained old-style electric fuses that required rewiring. Interestingly it was also the case that some of the floors were not level – however, this may be down to poor workmanship during the build or renovation. This would require further investigation.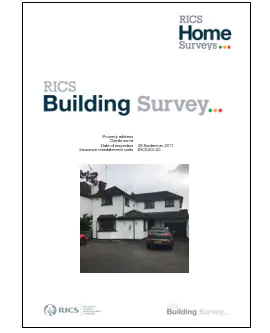 Contact us
If you would like to have a RICS survey or any of our services carried out at any property in Brentwood, please get in contact with us today. You can call the team at Able Surveyors on 0207 164 6628 or email info@ablesurveyors.co.uk and we will be able to provide you with the answers to any questions that you have. We look forward to hearing from you.
VALUATION REPORT STARTS AT £350 +VAT
HOMEBUYER REPORT (RICS HOME SURVEY LEVEL 2) STARTS AT £450 +VAT
HOMEBUYER REPORT (RICS HOME SURVEY LEVEL 2) WITH VALUATION STARTS AT £500 +VAT
BUILDING SURVEY (RICS HOME SURVEY LEVEL 3) STARTS AT £550 +VAT
A visual inspection of the property to access condition
Detailed visual inspection for hidden defects
A "traffic light" grading system is used to indicate defects severity.
Identifies legal issues disputes pertaining to the property
Informed recommendations for repair options
Technical details of building construction and materials provided
Identifies future maintenance requirements
Mortgage valuation / reinstatement cost
(Where not included this can be provided separately)
Additional Drone Survey
(for a more detailed view of a properties roof)
I can't say enough good things about Able - not just on the survey quality, but also on the excellent communication. They knew I was in a hurry, and they made sure they gave me the earliest possible slot (about a week after paying). On the day, the surveyor kindly called me and spent half an hour talking through what he found, to put my mind at ease. The next day, I got a summary of the survey. And a couple of days later, the full survey report. It was incredibly detailed, and answered all my questions. It also listed the costs of each repair. A few weeks later, and after the searches came back, I emailed Able with a list of questions. A couple of hours later, the surveyor personally called me and spent an hour going through each point step by step. At no point did I feel rushed, and he spent time reassuring me about each item I was worried about. All in all, dealing with Able was the best experience I have had in the home-buying process, and I would be delighted to use them again if I ever buy another place.
arpana agarwal
11/03/2022
Jack did a great job for us and was available for any follow-up questions in a timely manner. We got a thorough and professional report at a much more reasonable cost than other firms. Thank you!
Achilleas Konstantelakis
15/12/2021
Excellent service and communication. High quality report with lots of detail. I highly recommend them.
One of the best people you want to use when considering buying a property. Communication was second to none and the report provided was detailed and gave me the assurance I was looking for. Very reasonable price for a first time buyer.
Alireza Mohammadi
05/11/2021
I am happy with service they provided. I was in dark regarding a house that I am going to buy but they stepped in and shed some lights and gave me some insights about the condition of the property. They are resposive nd helpful. I am happy with their service and also I have to mention that their price was reasonable.
My second time using their services, this time with surveyor Jack. As always: professional report, prompt response with follow up call. Honest (refunded unnecessary part of the survey). Got returning customer discount. Absolutely nothing to complain. They are ABLE, as the name says.
Stefan Laxness
30/09/2021
Very efficient, very competent, excellent customer service!
I felt good because of the impeccable services i received. For keeping me in loop all the way is very professional even when you couldn't reach the agent. The report was very detailed and the attention to details was very impressive. The Initial report i first received was very commendable. Great job and keep it up.