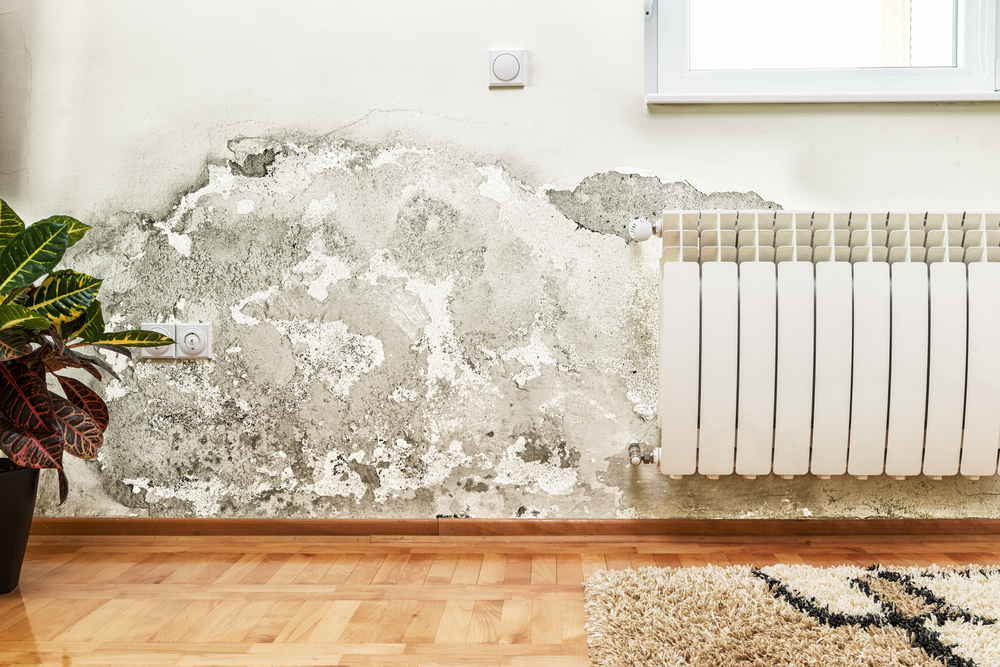 At Able Surveyors, we provide general RICS property surveys as well as Specific Defect Surveys for issues that need further specialist investigation. Damp can be a major problem for many buildings, both old and new, and accurately identifying the extent and cause of damp is the first step towards managing and rectifying this potentially serious building defect.
If your Building Survey has flagged up damp, or your property has a known problem in this area, a Damp Report is a vital tool to help you address the problem. We are able to undertake damp surveys for any situation where damp has been identified and a clear, unbiased solution is needed. Contact us today to see how we can help.
How does damp occur?
Damp can be a serious issue for any property, as well as a major headache for the owner. Problems typically stem from external landscaping or obstructed ventilation in walls, floors or windows, and while internal tanking or injecting a silicone damp-proof course may conceal the symptoms of damp, long-term damage may still occur if used incorrectly.
There are various was that it can present in a building:
Condensation can be an issue for old and new houses that are well insulated, double glazed, have non-breathable floor coverings and various heat-saving measures. The moisture generated by the occupants becomes trapped and is held within the air. Once moisture levels are high enough and the air temperature low enough, condensation will appear on colder surfaces. Over time, this can cause decorative issues and lead to mould growth.
If water finds a way into the building from outside, for instance via a defect within the fabric of the building, wind-driven rain or even drawn through the walls by salts hidden in the brickwork, penetrating damp can manifest on the inside and outside of the building. Faulty guttering, defective render or unsuitable external ground levels may also be to blame.
A small pipe or drainage leak can be serious if undetected or left undealt with for long periods of time. The same goes for spills from tanks, cisterns, baths, showers or washing machines. Once identified, this type of problem is easily remedied and any damp areas will dry out naturally over time. However, left untreated, the raised moisture content can create the right conditions for wood rot, fungal infestation and timber decay.
True rising damp is rare. It can be caused by the foundations being constructed below the ground water table or by poor finishing detail to the property, meaning a bridge exists for the water to bypass the damp proof course. If the DPC is compromised or defective, water can progress up the wall. However, the typical main cause for what is generally described as rising damp tends to be a raised ground level, a blocked cavity or faulty rainwater goods.
What does a Damp Report include?
If damp is suspected during a general home survey visit, our surveyors will ascertain moisture levels on internal walls with the help of a damp meter, and ask for a specialist Damp Report to be carried out.
The purpose of a Damp Survey is to determine the full extent of the problem and its cause, and suggest appropriate remedial action. On the day of the survey, you will be asked questions about the damp issue before the surveyor can work his way through the property, primarily focusing on the areas highlighted by you or the Building Survey.
The surveyor will look for signs of damp, likely causes and any potential problems that could cause further damp in the future. Using a combination of quality surveying equipment and specialist knowledge, the issue can often be located and rectified with minimal disruption, or we can specify works that will be most cost-effective.
Our findings will be documented in detail in a written Damp Report, which is written in jargon-free language to explain the severity of the damage and the necessary next steps. It may also include additional desk research carried out to piece together the extent of the current damage and what this means for the property, along with cost estimates to remedy the damp issue once and for all.
How Able Surveyors can help
Our independent damp reports are dedicated to ascertaining the cause of damp without any commercial bias. If a correction measure is required, we can advise on possible solutions and suggest reliable contractors to complete the work.
With over 25 years in the industry, Able Surveyors offer surveys based on an unbiased expert view, not on profit margin. While there is an upfront cost for the Damp Report, the savings that can be made on the works will more than cover the cost of the survey in most cases. If you wish to discuss your requirements for a Damp Survey Report with our expert team, please contact us on 0207 164 6628 or email info@ablesurveyors.co.uk.